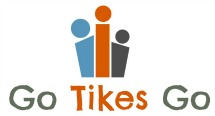 Tested in: Hiking, walking, & swimming with 20 lb. Toddler and 40 lb. Preschooler
Cost: $65
Availability: Boba provided by GoTikesGo.com
Best Use: Short hikes, around town use, in the water, backpacking (to pack along for day hikes). For children 3-48 months and 15-45 lbs.
Selling Points: The BobaAir is ultra lightweight, ergonomic, & machine washable. I found the straps to be surprisingly comfortable considering there is no padding.Most of the straps are easy to reach and adjust but I couldn't reach the upper back buckle by myself, so make sure you get help before heading out alone.
The design meets the standards of http://hipdysplasia.org/ by having the carrier reach to baby's knees so his legs won't "dangle".
It is super compact and folds inside itself to make a small pouch. This is a great feature because I love pockets, just make sure you fold it and it's a piece of cake. I made the mistake of trying to stuff it….not so good.
It can be used for front or back carrying (just not front carrying outward facing).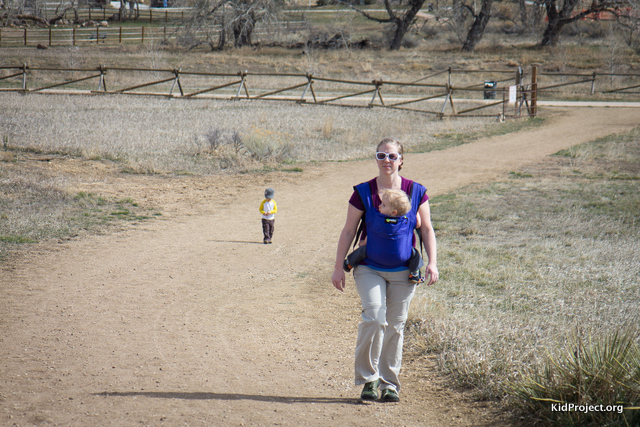 Because of the lightweight material you and your child won't get as hot and sweaty as you would with a thicker carrier.
Boba suggests having help the first few times you use the carrier, and you will need it. If you are wearing a "non-walker" on your back it's pretty tricky. I love that the Beco Butterfly II has an extra panel so you can put your child in the carrier, put it on your front or back, or pass it between people. The BobaAir doesn't have that extra panel making it harder to get your kid in and out, but having that panel would also make it heavier and less compact, it's a fair trade I'd say.
When I used it with my 40 lb. 3-year-old I was able to just squat to the ground and have him climb on, easy peasy.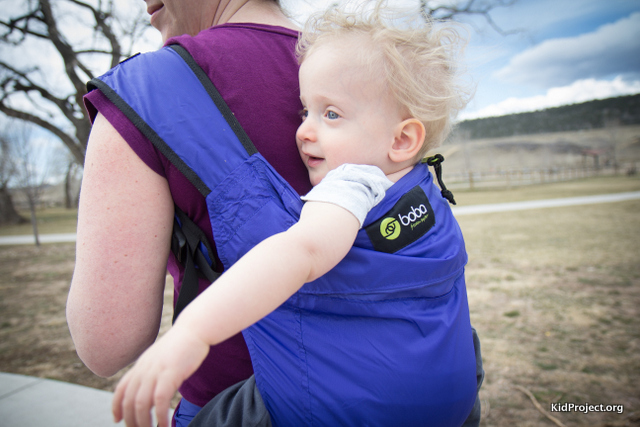 Knowing the BobAir is 100% Nylon I thought it might be great for use in the water. It didn't get soggy and heavy, and it dried quickly. I took my 3 ½ year old (who can't swim on his own) and my 16 month old to the pool and it was a life saver. I was able to wear the youngest while helping the oldest swim, and now I feel like I can go to the pool by myself with them, keep everyone safe, and have fun.
DISCLAIMER– Boba has not chlorine tested the BobaAir, use at your own risk in water.
Significant Specs:
Weight: 0.7lbs
100% Nylon
Front and back carry options
Compact and Self Storing
Sleeping hood and pocket
Fits adults heights 5'0-6'3
Waistband range: 27"-55"
Machine washable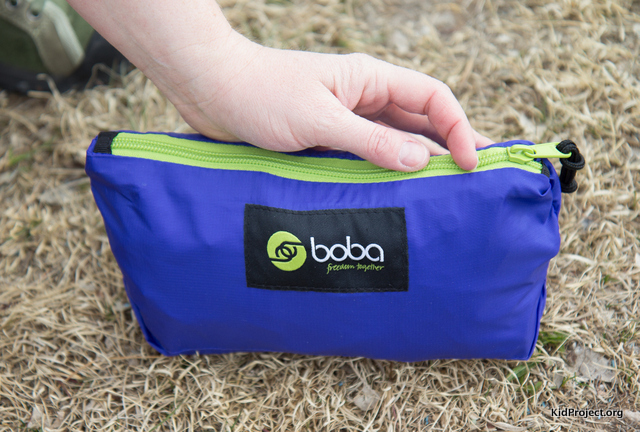 Desired Improvements: Some sort of padding/protective material around the back/chest buckle.  When wearing my child on the front, the back buckle was pretty uncomfortable. It didn't matter how much adjusting I did it was always digging into me. This problem didn't exist when wearing my child on the back.
Boba says you can wear a child up to 45 lbs. in the Air, but I found it to be fairly uncomfortable on my back and hips. In a pinch you sure can do it, but might not want to for a lengthy hike.
The Bottom Line: It's a great carrier! It won't replace my Becco Butterfly II, but it's a great addition to my kid carrying arsenal. It is designed to be lightweight and compact and that it is. You can keep it in your diaper bag, car, or even take it backpacking. While it would be great to bring backpacking because of those features, more than likely you won't want to wear it for really long hikes because of the lack of padding. It's great for spring and summer but not best for winter with the thin material not adding any warmth.