This is our second installment of "Family Friendly Hikes near Salt Lake."
If you missed the first one, check out five of our favorite hikes, especially during shoulder seasons (ie. less crowded): Five Family Friendly Hikes near Salt Lake.
For awhile now I've been thinking there was a lack in covering so many of the hikes we frequent every summer. So here are five MORE hikes you should check out during the next couple of months in the Wasatch Range.
Twin Lakes, Brighton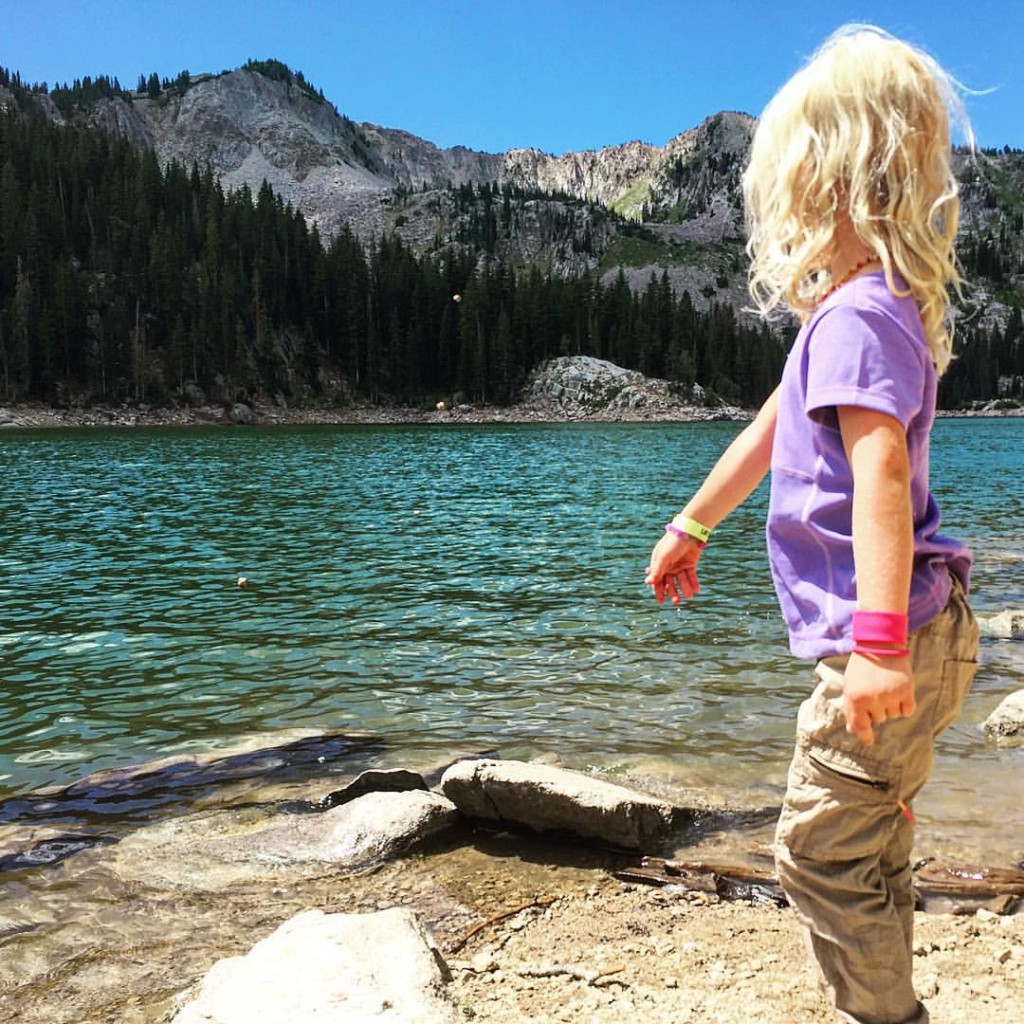 Roundtrip Mileage: 2.5 miles
Elevation Gain: 720 ft.
The trail to Twin lakes starts at the Solitude Nordic Center just before you reach Brighton Resort. Make sure to visit the nature center located in the Nordic Center building during the summer and learn about local wildlife.
The trail proceeds around Silver Lake and then begins to climb from the northwest side of Silver Lake. Twin Lakes is majestically nestled beneath Wolverine Cirque and is quite scenic.
*No Dogs Allowed in Big Cottonwood Canyon
Lake Mary, Brighton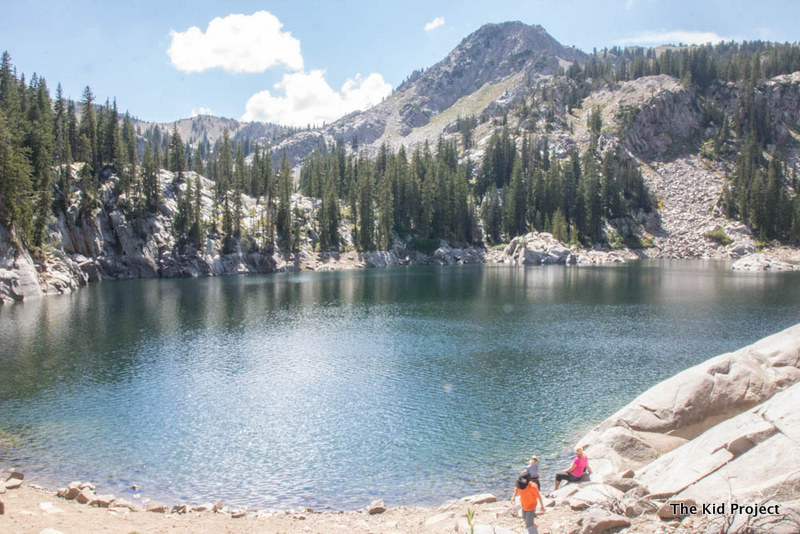 Roundtrip Mileage: 2.1 miles or 3.9 miles if you go to Lake Catherine
Elevation Gain: 620 ft. The Lake Mary trailhead starts from the base of Brighton Resort adjacent to the main lodge area. It climbs steadily through forest and past gushing waterfalls to Lake Mary. This is one of three lakes you can see, Dog Lake and Lake Catherine being the other two.
If you are looking for a longer hike, continue on to Sunset Peak, (this can also be accessed via Catherine Pass) and was the first Wasatch summit we did with our kids.
Lake Mary is best during early summer as the water often gets very low later in the season but it is also spectacular in the fall when all the leaves are changing.
*No Dogs Allowed in Big Cottonwood Canyon
Catherine Pass, Alta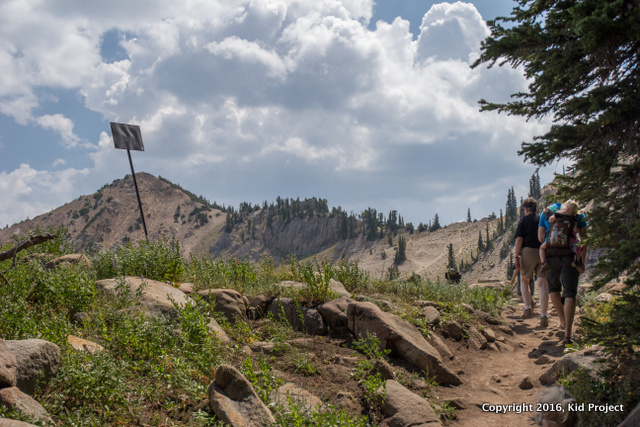 Roundtrip Mileage: 2 miles
Elevation Gain: 800 ft.
The trail for Catherine Pass from the Alta side (can also be accessed via Lake Mary/Lake Catherine trail in Brighton) begins from the Albion Basin Road. Be sure to grab a trail map at the Base of Alta before coming up.
The trail climbs steeply but then mellows out as you cross a meadow and then begins the final climb to Catherine Pass with views down to Lake Catherine and Brighton. The trail merges here with the Great Western Trail, you may proceed up to Sunset Peak from here as well.
*No Dogs Allowed in Big/Little Cottonwood Canyon
Needles Cirque, Snowbasin Resort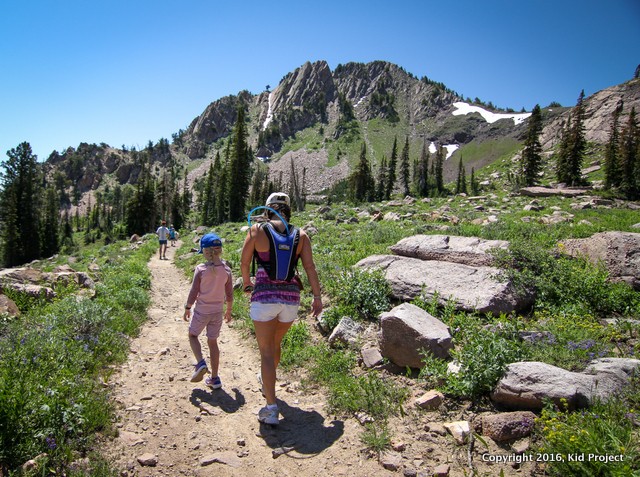 Roundtrip Mileage: 1 mile (to the Ogden Ridgeline)
Elevation Gain: 350 ft.
A great way to experience the high alpine flowers and beautiful Ogden Ridgeline without hiking all day. Take the Needles Gondola (check Snowbasin.com for ticket prices/season passes accepted) to the top. Hike the Cirque Loop with a short but very steep climb up to the ridgeline for amazing views of the valleys on both sides. Often you can see all the way out the Great Salt Lake as well.
*Dog friendly!
Albion Basin, Alta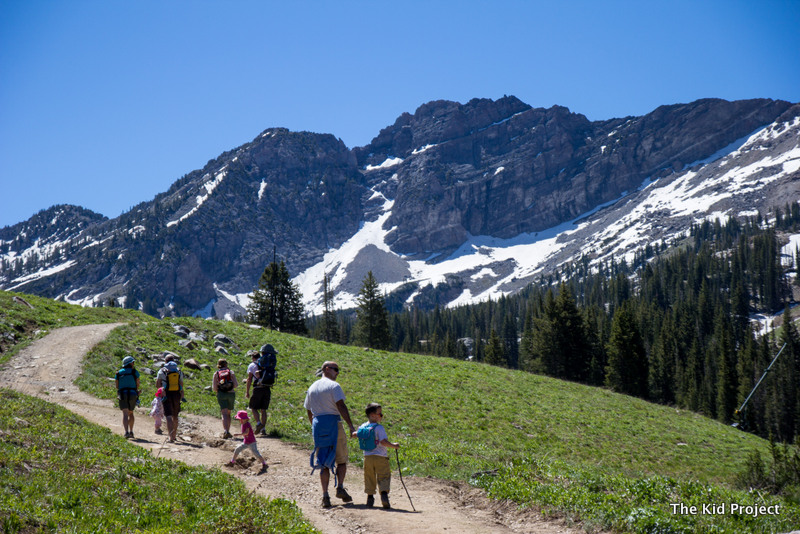 Roundtrip Mileage: 3.7 miles
Elevation Gain: 708 ft
Albion Basin is famous for its wildflowers and is a must visit in July and August.
If you would like an easier and shorter version of this hike, take the Alta shuttle up Albion Basin Rd (currently free) to the upper trailheads and then descend through the fields of wildflowers back to the base of Alta Resort.
This can be combined with a hike to Cecret Lake, one of our favorites as mentioned in our first post.
*No Dogs Allowed in Little Cottonwood Canyon
Dog Lake via Millcreek Canyon/ Upper Big Water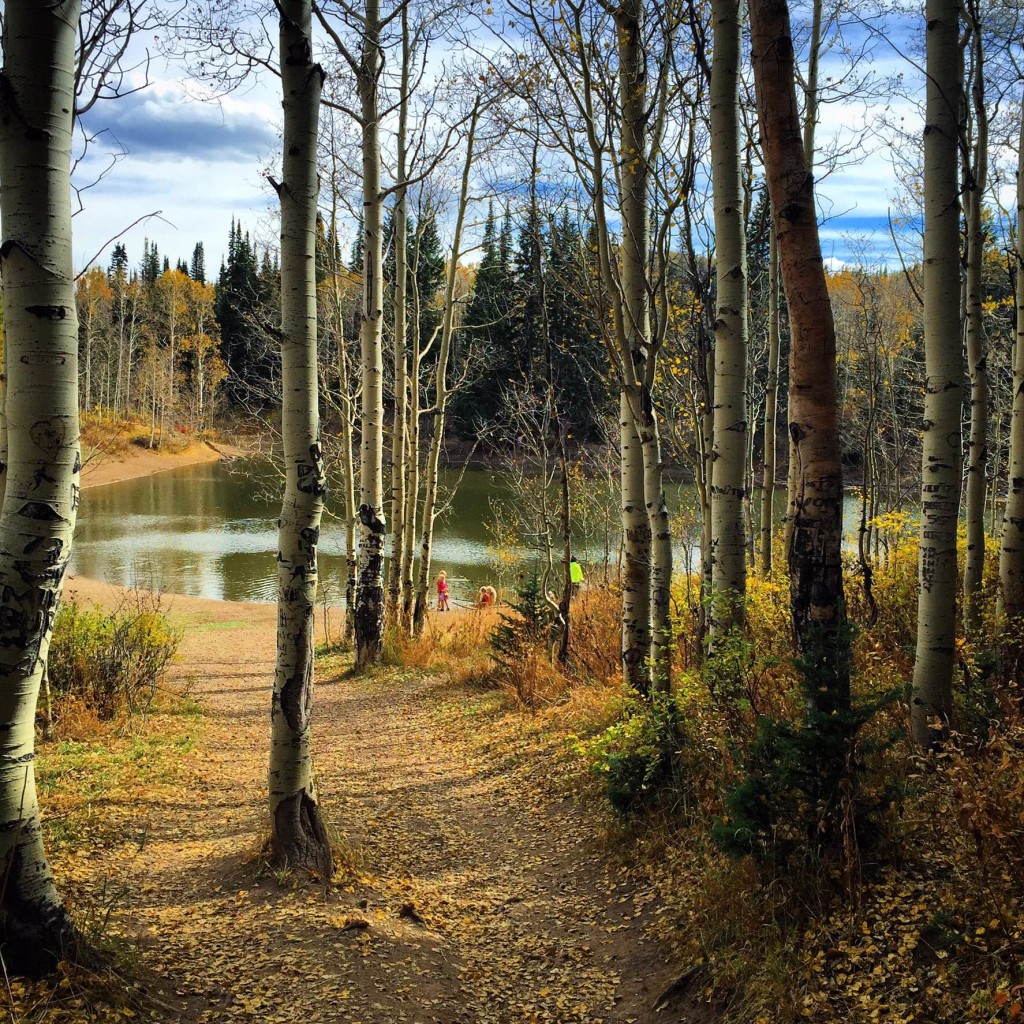 Roundtrip Mileage: 5 miles
Elevation Gain: 1,100 ft
A shorter (and more common) way to access Dog Lake is from the Big Cottonwood side (Mill D trailhead) but we prefer to come from Millcreek to we can bring our dog. 🙂
The hike climbs steadily but not too steeply for 2.5 miles to the lake. Expect plenty of dogs and doggy splashing. This hike is especially spectacular in the fall when leaves are changing and the lake is ringed with aspens.
*Dog friendly IF you enter by Millcreek Canyon. Note leash laws for Millcreek Canyon vary by day.