A deep sigh escapes my lips. Chris and I joke that we have roughly 20 of these deep "sighs" that need to escape as we re-learn to relax on every trip. After 4 weeks of travel, I think this might be sigh #17 for me. 🙂
Four weeks done and we are only half way through our travels for this summer before we settle back into school and fall life. Three years ago the spark lit for more travel. Longer travel. More time on the road.
A brief recap of our story to traveling more:
As with any life change, the question always arises, "Is this really what we want?" Many people joke with us about the rashness of our decisions… but in many ways we are slow and methodic as well. In exploring the answers to this question, we've taken the "baby steps" approach.
At the end of 2014, we decided to take a month during the summer and travel. We started in 2015 with North Lake Tahoe, not to far away (8 hours) but a place I've wanted to linger in for a long time. I am a slow traveler – I want enough time to get a feel for the culture of a place, absorb the smells, learn the secrets. I've never been a fan of "flying through."
It was life changing, amazing, and when our time came to go home, everyone was in tears.
In 2016, we decided we'd try leaving the country this time, and headed to Canmore, AB up north. Once again, even after a month, we weren't ready to come home. The travel bug had stuck.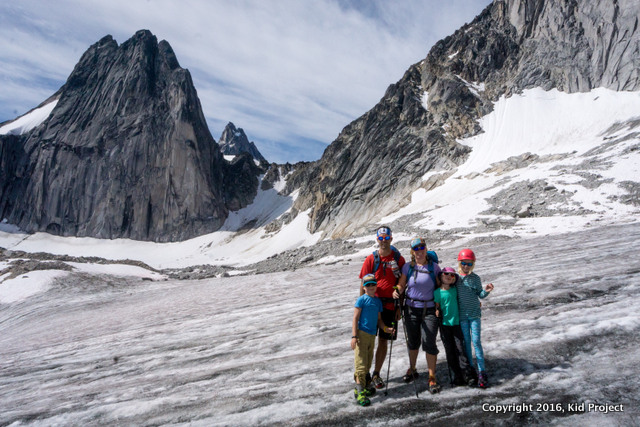 Fast forward to this last spring, and now we'd like to be able to travel for even longer. But renting houses or hotels is not financially feasible for us for longer durations of time… We need a different option that allows us to travel but also gives us room for Chris to work full-time while we are on the road. A larger travel trailer is our answer. Why we chose an Airstream is perhaps a topic for a different post. 🙂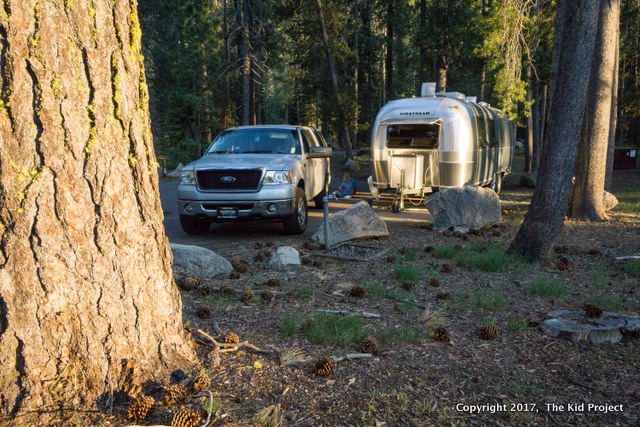 And so this summer, after another four weeks in South Lake Tahoe, instead of heading home, we traveled north to Lava Beds National Monument. Due to our ability to work on the road and our new Airstream, we lengthened our annual month away from 4 weeks to 8 weeks. Who knows, maybe we'll really be able to pull off this "part-time traveling family" thing.
Working on the Road
What has been a theory for so long, is finally being put to the test. We aren't independently wealthy, so in order to stay on the road for so long, Chris needs to be able to work and our kids need to be schooled.
So far, Chris works while I drive to our next destination. When we are parked, Chris puts in work hours in the mornings and we do subjects like math and reading, so we can adventure many afternoons. Honestly, this is still taking some adjustment. We find ourselves in limbo somewhere between work life and vacation life.
In fact, it is a whole new lifestyle of its own that many (including ourselves) don't fully understand. We've been weekend warriors for so long, it is taking a lot of diligence for us to slow down and still get "life stuff" done while in beautiful places.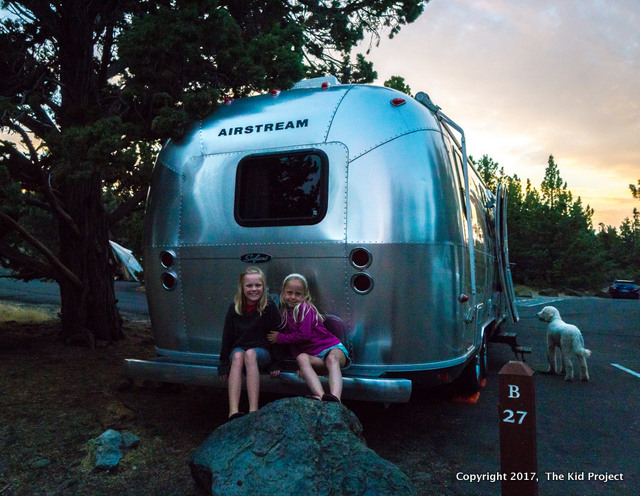 After a few days of glorious sunsets and exploring caves at Lava Beds National Monument, we blew through Crater Lake National Park (one day we'll return and do it right) and camped at Diamond Lake just 30 minutes north. If you are looking for an amazing place to camp, bike, and fish in the area, Diamond Lake is the place. Large amounts of first-come-first serve sites are on the lake front!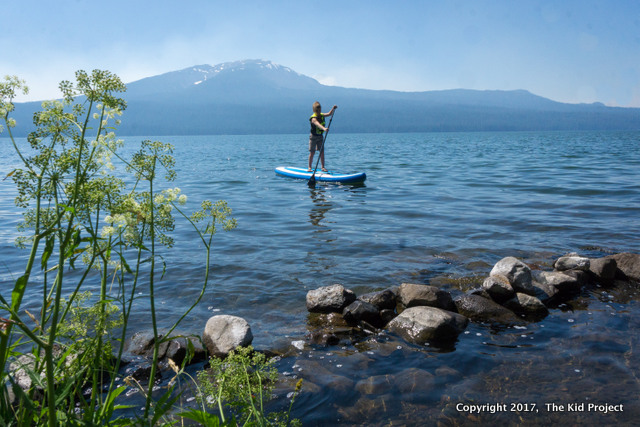 And that leads me to now. Sitting on the large wrap-around wood deck of my parent-in-law's ranch house, over looking fields with horses and hills headed in every direction. Our Airstream and Kai are both getting a good bath, and I finally have some time to sit and write to you all. 🙂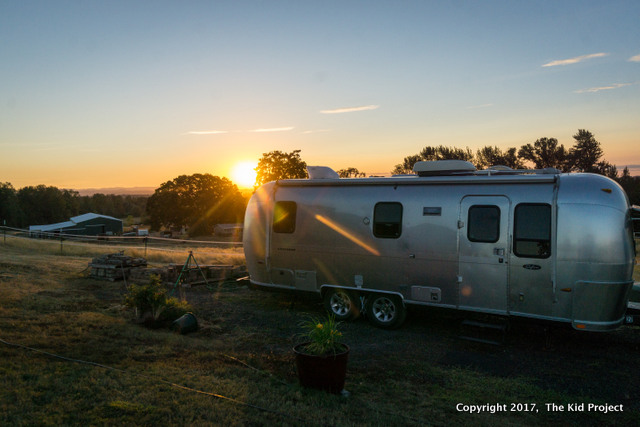 We plan on enjoying our time here, right in the path of the eclipse, until sometime next week before heading out to the coast. Things have been far from perfect. There have been flat tires, a mice invasion, sibling conflict, a bit of homesickness, and the stress of dealing with crowds on the road. There have been many bumps and bruises along our journey, yet we find there is still no other place we'd rather be. The beautiful moments have outnumbered the hard ones.
If you all enjoy these updates, let me know, and I'll try to keep writing them from the road! See you on the other side.
~Alyssa