If you've been reading the blog for the past 6 months, you've undoubtedly noticed that we purchased an Airstream trailer, and have been adventuring in it a bit. We were fortunate that the previous owners were also happy to sell us a Honda EU2000 generator. The generator was pretty much a requirement out of the gate, as we are not independently wealthy and I work while we travel. Calling in with sick batteries probably isn't the best idea if we want to be able to keep doing this.
Why solar?
While the generator is awesome, there are several problems with it:
1) I'm lazy — it is kind of a pain to have to get it out, start it up, hook it up, etc.
2) It takes a long time to fully charge batteries. Lead-acid batteries charge logarithmically — getting them to 90% takes an hour or two, but to 100% takes all day, regardless of the charging source. Solar is ideal, because it can sit and slowly charge them all day.
I copied much of our design from Currently Wandering's excellent series on their solar system, and information gleaned on AirForums, especially posts by Lew Farber, who is an installer for AM Solar and generously offers advice on everything related to RV Solar design and installation.
So, without further ado…our solar installation.
Step 1: Design and sizing
The first step in putting on a solar system is figuring out how much capacity you'll need, and designing all of the interconnecting pieces. If you're just using lights, a little TV, the water pump and furnace, you can probably get away with a 200w system and use the Airstream factory solar wiring. Since we are running a laptop or two all day, plus cell signal boosters etc, we knew we'd need a little more. We decided to start with 300w of panels, not exactly sure of what our consumption would be. However, we sized our wiring so we could easily add another panel or two.
It is really important to use large enough wires in solar installations to keep your voltage drops to a minimum (read Handy Bob's diatribe if you want a more spirited conveyance of the point). The minimum size can be calculated using an online calculator. It is best to keep the voltage drop to 3% or less, and err on larger gauge cable if you're unsure.
When designing a system, you have 3 options. One is to wire the panels in series. This adds the voltage, keeping the current (amps) at a lower value, allowing you to use smaller wiring. The downside is if one panel goes into the shade, the entire array stops producing power. Series also requires an MPPT controller to transform the voltage back down to battery voltage.
The second option is parallel, which keeps the voltage the same, and adds the current. The downside to this is that your wire gauge must increase to handle the heavier current flow. The upside is that if some panels are in the shade, the sunny panels keep producing.
We decided that the factory solar wires (10 gauge) were insufficient to run even 300w in parallel (~18v x 17a), and if we ever upgraded to 4 or 5 panels would be woefully undersized. In light of this, we decided to run 6 gauge wire from the junction boxes on the roof to the solar charge controller, and from the charge controller to the batteries.
For our charge controller, we settled on a Victron MPPT 100/30 charge controller largely because of its bluetooth support. This let me bury the controller close to the batteries, under the couch, and never have to access it. Some other models have a remote display, but this required more wire fishing, which I really wanted to avoid.
We paired all of this up with a Renogy 1000w pure sine inverter to make our 120v outlets work. (Batteries produce 12v of DC — household electronics require 120v of AC power. An inverter converts one to the other.) Pure sine inverters are more expensive, but supposedly are make the electronics operating of them much more efficient (15% or more). Also, if anything you are powering has a motor (like a blender), pure sine is apparently a requirement. A lot of people go with larger inverters, but I couldn't figure out what we would run beyond a toaster or our small blender, and 1000w seemed like plenty. In this case again, since I wanted to run new battery cables for even a 1000w inverter, I sized them so we could (significantly) upsize the inverter in the future, using 2/0 cabling. This gives an added advantage of not having the wiring heat up during periods of heavy use. I also planned to install an automatic transfer switch and run a new sub-panel for the outlets. This made it so all of the outlets in the trailer would be powered by the inverter, and automatically switch to shore power when available.
Step 2: Fishing wires
Before actually ordering all the parts, I decided to start with the part that gave me the most anxiety: fishing the 6 gauge cables between the front of our trailer and the refrigerator where I planned to eventually run the cables to the roof via. the refrigerator vent. One afternoon, I managed to get a fish tape through a conduit that ran the length of the trailer, then fished the two 6 gauge cables I planned to run to the roof, along with some Romex (household 12 gauge wire) for the inverter power feed back to the sub-panel. Once I'd fished these, I decided that there was nothing left that would be a problem, assaulted my credit card with an Amazon purchase, and waited for the boxes to arrive.
Step 3: DC Rewire
Based partly on the weather, I decided that I would start with the interior installation. While it seemed like all I needed to do was install the solar charge controller and inverter, it also included additional fusing, shut-off switches, the automatic transfer switch, etc. Most of this equipment would go in behind our couch, which sits at the front of the trailer, close to the batteries.
I'd removed the couch once before to install our battery monitor shunt, so that part was easy. I spent a few minutes looking at the factory wiring, which was clearly never meant to be seen again, before deciding I'd better just unhook everything in the tangled mess and start over.
I labeled the wires I was about to disconnect, and started trying to re-arrange things so I could add the new wiring without it being a mess.
After 4 or so hours, I finally got it all pulled together:
Here is an idea of what all the pieces are: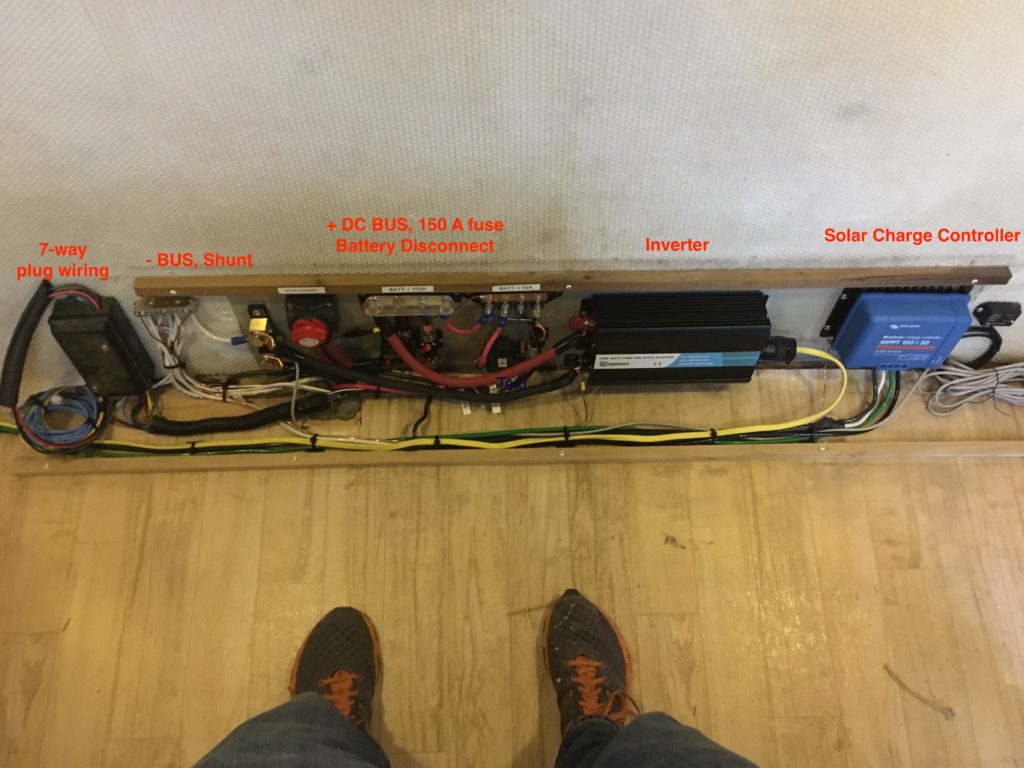 After finishing the DC wiring, I moved back to the dinette bench next to the refrigerator, where I planned to install an AC sub-panel and 30a GoPower automatic transfer switch.
The automatic transfer switch is installed under the dinette, in the inaccessible half by the wheel well. It isn't there in this picture, but imagine a box it in the dark spot on the right.
On the left, I put a subpanel for our outlets, as well as the shutoff switch and a 30a fuse for the solar feed coming from the roof.
My son was kind enough to snap a picture while I worked on rewiring the AC feed from the main panel, to the automatic transfer switch, to the sub-panel.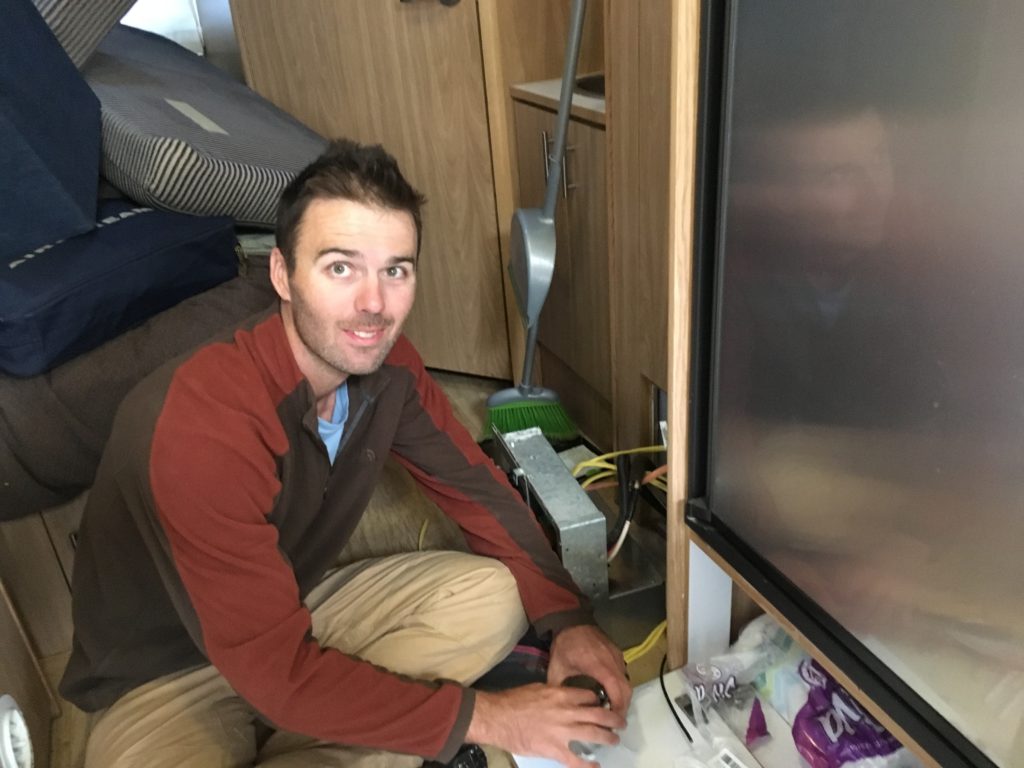 Step 3: Mounting and Wiring the Panels
After getting the interior wiring mostly complete, we had some nice weather and I decided to tackle mounting the panels on the roof. Renogy makes mounting feet for their panels, but they screwed in from the back. If I used these, I'd never be able to remove a panel once it was attached, as the screws would be inaccessible. I didn't like this. Mounting panels on Airstreams is also complicated due to the curvature of the roof — the feet need to be able to rotate to match the roof where they are at. AM Solar makes some excellent mounting feet that mount to the sides and rotate, but at $60 a panel they were more than I wanted to spend. I finally came across a post where someone had built their own, and decided to copy their design.
Here is one of my completed feet, complete with 3m VHB sticky tape (no screws in the Airstream roof!)
I debated for a while on where to place the panels on the roof, originally planning on squeezing all 3 between the air conditioner and the Fantastic Fan. After considering it, I was wary of being next to the Fantastic Fan cover, or air conditioner, as they could both cast shade. I also decided walking on the roof was painful enough, and I should leave the ribs available to stand on for the next time I had to get up there. I ended up mounting two panels between the Fantastic Fan and the A/C unit, leaving enough space to step between them on the rib, and putting the third panel on the front corner. We may add another panel next to the A/C unit behind the other front panel soon.
After peeling and sticking the panels down, I sealed around the feet with Sikaflex. This is a bit of a belt + suspenders move, as I think the tape is sufficient, but it does protect the tape from water and also serves to glue the feet down. My wife was scared they'd blow off when we drove down the road, but I'm pretty sure you could strap on to the panels and lift the trailer off the ground.
Next, I had to bring the wiring together. There are MC4 connectors that let you plug them all together, but I really liked how AM solar did it with a junction box. The only part I didn't like was their junction box's $60 price tag, so I built my own:
I stuck these down to the roof with some VHB tape, and ran the cables in to the posts.
Lastly, I needed to run the cabling from under the dinette, behind the fridge, and through the fridge vent. This required removing the fridge. I also took the opportunity to run 2 50ohm cables up to the antennas on the roof.
Removing the fridge wasn't as bad as I'd worried it to be, and it was nice to have the space to run the wires well.
Step 4: Testing!
After getting it all wired up, I turned the switches and connected to the solar controller with my iPhone. Boom! In business! I plugged our shop-vac into an outlet and vacuumed up the mess using inverter power. The charge controller told me the panels were generating 240 watts. Given that October isn't the best season for making power, I was encouraged.
We decided we'd better give it a more real-life test, so headed out to Vernal for a week to visit Dinosaur National Monument and do some mountain biking.
Over the course of the week, we got enough sun each day to recharge the batteries:
We spent most of November and early December dry camping in Southern Utah, California and Sedona. For the first part of the trip, we never had to pull out our generator. However, as the month progressed and the days got shorter and the sun was lower in the sky, we were generating less and less power. In Death Valley we were lucky to get 700wH per day, and Sedona was even worse due to some wispy clouds. This, along with Alyssa editing video at night and 20 degree temperatures causing the heater to run a lot, our batteries were drained pretty bad, and required us to pull out the generator for an hour each morning when the batteries were their hungriest. (It is best to run the generator when the batteries are at their lowest point, as they'll take the most charge.) But then, the solar was still able to top it off while we were mountain biking in the afternoons.
Costs
How much did all this cost us? Here is a complete material list (kept for tax purposes):
| | |
| --- | --- |
| | |
| Description | Price |
| Victron battery monitor | $161.60 |
| Victron bluetooth dongle | $57.99 |
| | |
| 30 amp circuit breaker | $10.98 |
| Victron MPPT 100/30 w/ Bluetooth Dongle | $249.00 |
| | |
| 20′ 6 guage wire | $45.00 |
| Battery switch | $18.56 |
| 30 amp circuit breaker | $10.98 |
| uxcell junction box | $19.99 |
| 3/8″ Stainless junction block | $17.99 |
| 10-guage ring terminals | $4.58 |
| Zip-tie adhesive backed mounts | $10.99 |
| 10 gauge wire | $18.95 |
| | |
| 3 x 100w Renogy Panels | $377.97 |
| 3M VHB Mounting Tape | $24.92 |
| Dicor sealant | $11.09 |
| | |
| Renogy 1000w inverter | $206.99 |
| 2/0 Wire | $33.00 |
| 150a Breaker | $31.95 |
| Battery switch | $18.56 |
| 150a BusBar | $22.24 |
| Battery terminals | $13.59 |
| 2/0 Battery interconnects | $17.99 |
| 2/0 5/16 terminals | $9.20 |
| 2/0 3/8″ lugs | $15.20 |
| Levinton Plug | $3.98 |
| 20a circuit breaker | $6.74 |
| Load center | $13.00 |
| Go Power! Automatic transfer switch | $85.47 |
| | |
| Lug crimping tool | $21.93 |
| Aluminum saw blade | $15.98 |
| Aluminum angle bar, 2″ | $21.99 |
| Aluminum angle bar, 1″ | $12.49 |
| Fasteners | $22.27 |
| Silicone | $5.29 |
| Hinges | $5.29 |
| Acetone | $7.29 |
| | |
| | |
| Total | $1,631.03 |
At the time of writing, there is a 30% tax credit available which should help us to offset the cost a bit.
Conclusion
Well, are we glad we did it? In reality, Solar doesn't pay for itself. We already own a generator, and running it is really, really inexpensive. But the solar has made things much simpler and easier. I anticipate never needing the generator unless we have several rainy days or we are camping in November -> January. And that is pretty rad.