If you've been around the blog for any length of time, then you've no doubt noticed we have partnered with Snowbasin Resort through the last couple seasons. We love skiing as a family at Snowbasin and want to share our tips for your visit to the resort.
Snowbasin is a huge mountains with a total of 3000 skiable acres and 3000 vertical feet. It played host to the 2002 Winter Olympics, and has 3 world-class mountain lodges, two of which are perched high near the rocky ridge line of the Wasatch Mountains.
Snowbasin is uniquely positioned in that it is still incredibly accessible (under 1 hr from Salt Lake), yet out of the main flow of skier traffic that occurs towards Park City and the Big and Little Cottonwood Canyon resorts, making it less crowded and less "trafficy." (Is that even a word?)
PARKING:
Coming from Colorado, the parking at Snowbasin is amazing, being that most lots are a short walk to the base area. Snowbasin offers free shuttle rides from ALL lots, making one of the most stressful parts of any ski day, not much of a worry! The shuttles pick up and drop off skiers at the ends of each lot, simply walk on over and they will be there shortly to pick you up!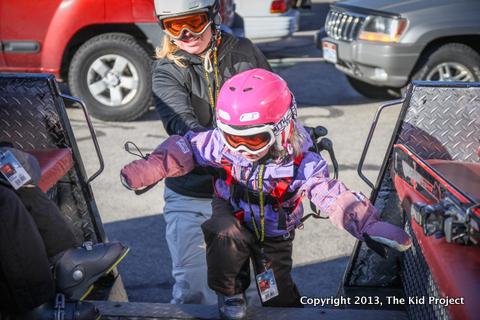 New this year (and great news for families, because we are ALWAYS carpooling 🙂 ):
Terrace A will be for carpoolers! Do your part to be environmentally friendly and get priority parking in Terrace A when carpooling with 3 or more people. This is based on a first come, first serve basis.
Local tip:
Snowbasin's infamous Moose, nicknamed September, (don't ask me why) is more than a picturesque statue. Due to its central location at the base, it is a great place to designate as a meeting place for your family members should you become unintentionally separated.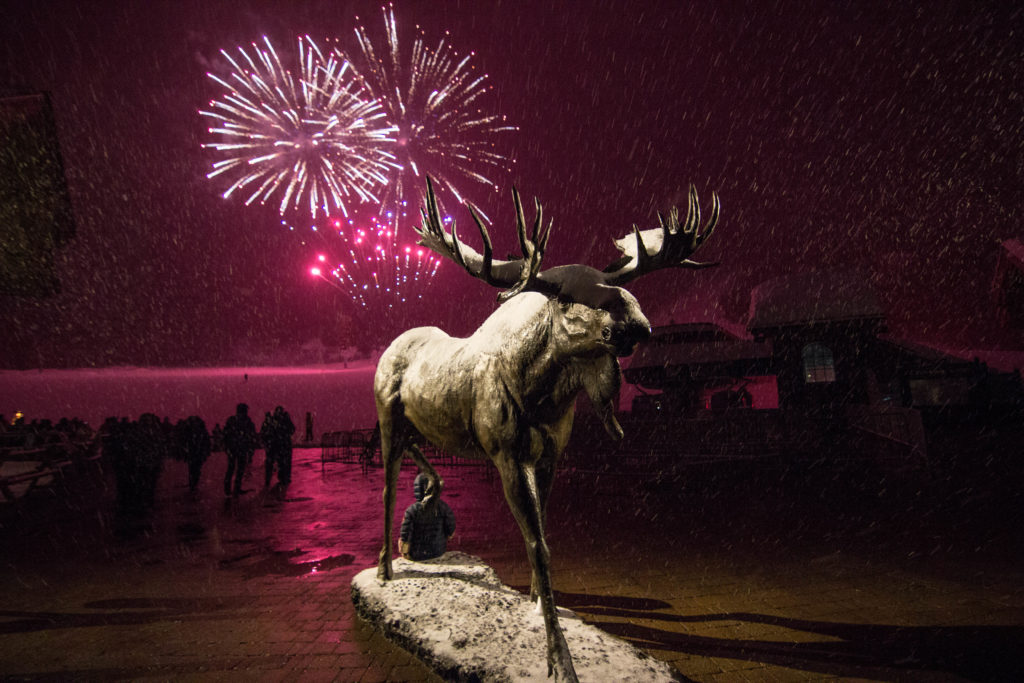 TODDLERS/NEWBIES:
While I would classify the bulk of Snowbasin Resort as blue/Intermediate terrain, they do have an amazing beginner area, one which first drew us to the resort when our kids were just learning to ski.
When you arrive at Snowbasin, Earls Lodge, host to the Cinnabar Restaurant and the main dining areas, will be on your left. The Grizzly Center (ski shop, rentals, and repair shop) are on the right and adjacent to the Grizzly Lodge is the Learning Center. The distance between your car, the rental shop, and the ski school is incredibly short. And the beginner hill, complete with magic carpet, is only a few feet away!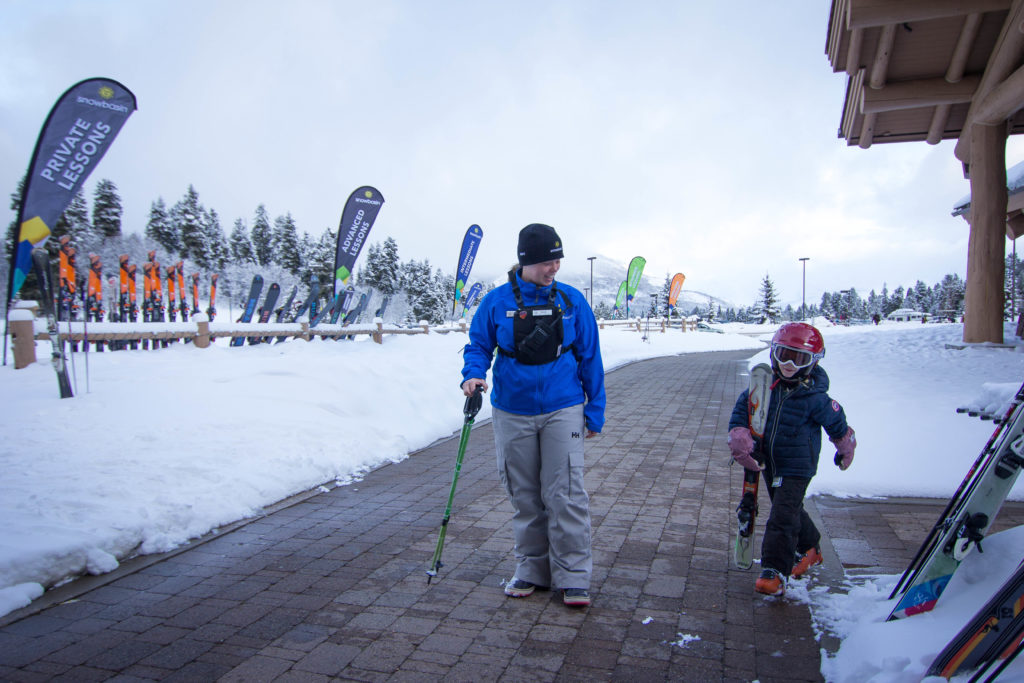 For those parent's equipped to teach or ski with their toddler on their own, Snowbasin's main beginner run under the Little Cat Express is PERFECT for all levels of beginners, yet also has the Little Cat terrain park for my slightly older jumpers.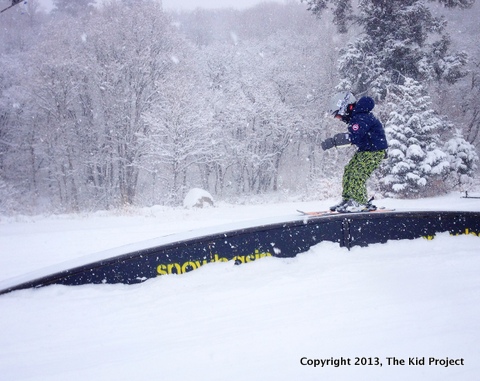 When my youngest is tired, we can take a break in the lodge or sit around a roaring fire and warm up. There is an additional magic carpet and mellow beginner area at the top of the Little Cat lift, perfect for those first days on skis or snowboard.
For more information on beginner and child lift tickets visit here: Lift Tickets
For tickets up to 40% off visit Liftopia.com
New this year! The Wildcat Six-pack (2017):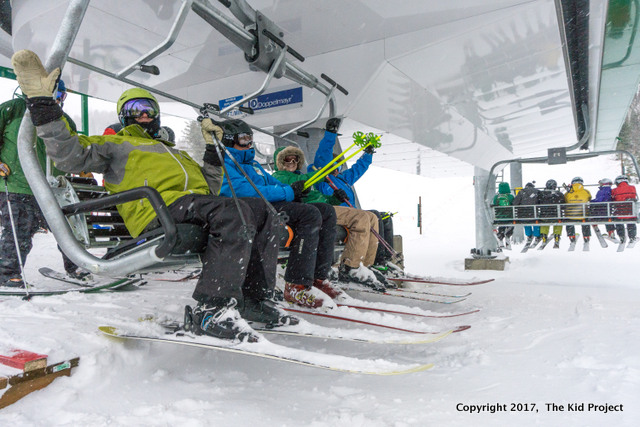 Snowbasin has revitalized the heart of Snowbasin Resort by opening the all new Wildcat High-speed 6-pack lift this season! This increases the amount is easily accessible beginner and intermediate terrain, even if we still aren't sure if people can count to six and successfully load the new 6-pack. LOL.
KID-FRIENDLY TERRAIN: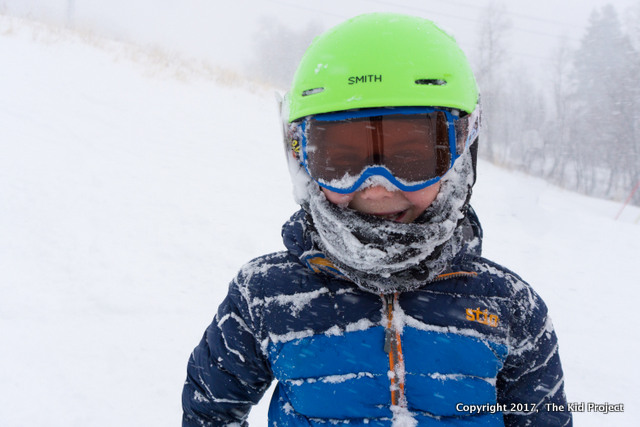 Once you and your child have mastered the bunny hill under Little Cat, Snowbasin offers a ton of kid-friendly terrain spread across the resort. Perhaps the next step up in terrain can be found on the Becker and Wildcat Lifts. We specifically like runs such as Eas-A-long, Snowshoe and Blue Grouse.
While I always caution people before they hop on the Needles Gondola and head straight to the top, there is a ton of fun terrain up top as well. The easiest way down from Needles (many beginners get very overwhelmed by the steep faces and long runs coming from the top) is Porcupine Traverse and down to Herbert's. As soon as you and your child are comfortable on the short but steeper faces on many of the runs off of the Needles Gondola, you are probably ready to check out Strawberry Gondola.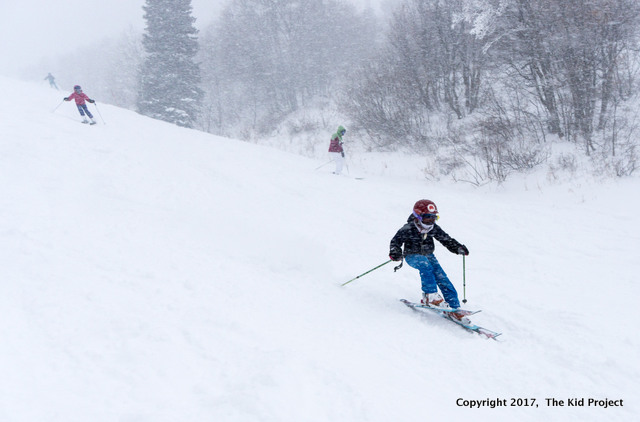 Strawberry Gondola
On a sunny and clear day, the views from the top of Strawberry Gondola are unmatched, and there is an easier route down for those looking for mild terrain. Most the terrain over on the Strawberry side is intermediate or expert and due to the wide open nature of its bowls, I'd highly suggest you avoid it on cloudy days. I've had some of the most epic "low-visibility" conditions over there.
John Paul
The John Paul lift is host to the majority of the expert terrain at Snowbasin Resort including the 2002 Olympic Downhill run! It also provides the only access to the John Paul Lodge and the Allen Peak Tram. The easiest way off the John Paul side is by taking the Mt. Ogden Bowl Road, a narrow but easy cat track off the top that eventually blends into the terrain under the Porcupine Lift.
If you are comfortable skiing steep and off-piste conditions, definitely make the trip up the Allen Peak Tram! The ride to the top alone is worth it.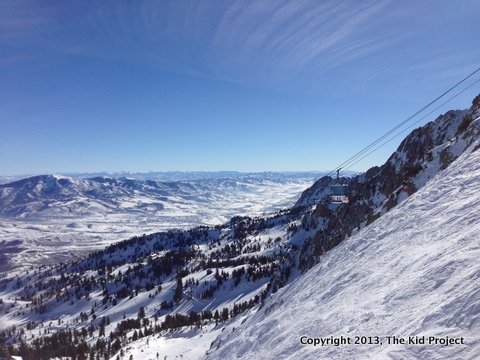 DINING:
Snowbasin Resort is known for its world-class dining!
Here is a brief break down of the dining options:
Hands down the best views? Plan on visiting John Paul Lodge for lunch. The unique lodge can been seen in our video above. If you are looking for a suggestion, the Chicken Caeser Salad and Tomato Basil Bisque are amazing.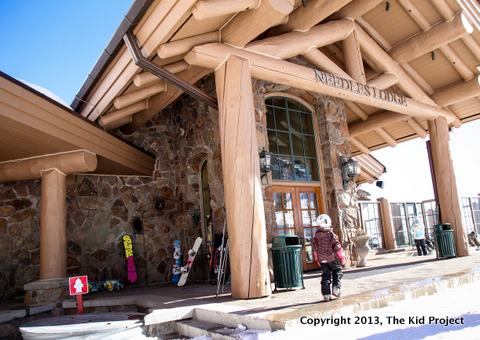 Want to eat and go? Stop for a quick bite at the Needles Lodge in between laps on the gondola. A roaring fire and award-winning entrées are awaiting you.
Need a budget friendly option for feeding all the hungry stomachs in your family? The made to order pizzas at Earl's Lodge are our family's favorite and you can feed 4-8 people for $35. And you have to try the Garlic Parmesan Fries, only available at Earl's Lodge.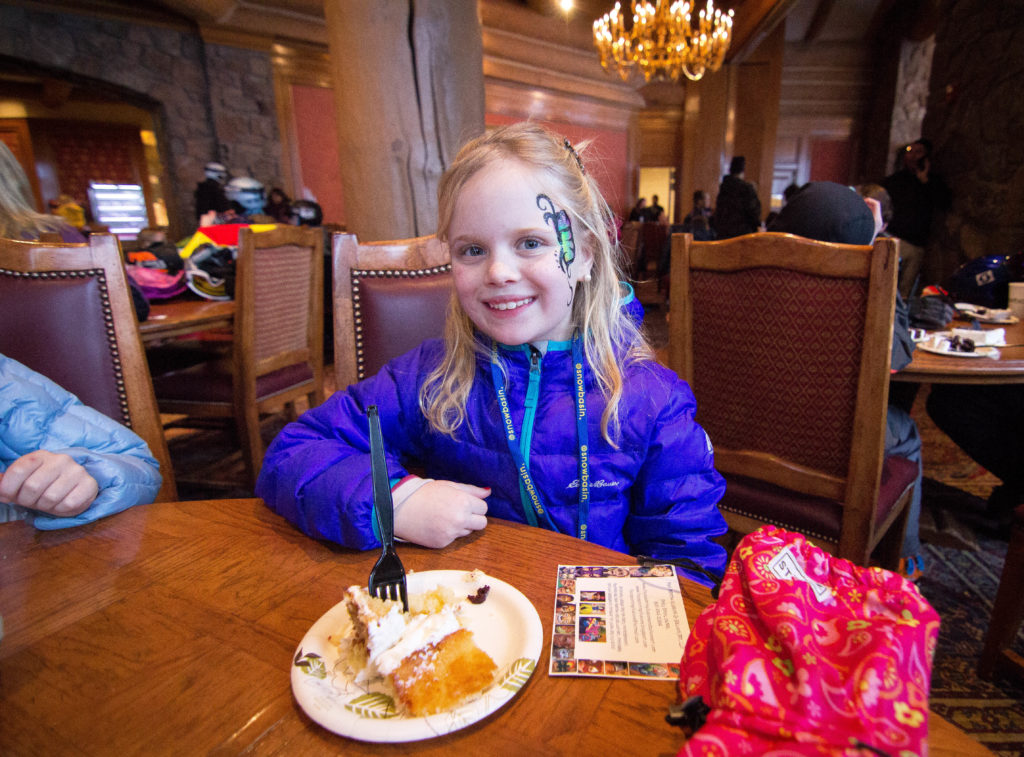 Find yourself starving and on the Strawberry side? Make sure to check out the cafe located in the Strawberry Gondola building at the bottom.
DIRECTIONS:
Snowbasin is a 40-minute drive from Salt Lake City and 50-minute drive from Park City. The address is  3925 E. Snowbasin Road, Huntsville, Utah.
From Park City, I-80 east to I-84 west to Mountain Green exit 96.
From Salt Lake City, I-15 north to U. S. 89 north exit 324 to I-84 east Mountain Green exit 92. Snowbasin Resort is 8 miles from Mountain Green on S. R. 167 (Trappers Loop).