The snow is accumulating all around the state of Utah, and our family is making the most of winter!
This year, for the holiday season, we made reservations at the Homestead Resort in Midway, UT (only a 25 minute drive from Park City Mountain), with plans to ski and explore Park City Mountain. If you are interested in accommodations where you can ski all day and swim in a crater in the evening, check out my post on the Homestead Resort – a true Utah treasure.
New this year, Vail Corporation has combined Park City and the Canyons to create a mega-resort, the largest in America. I was curious to see how this affected the visitor experience.
Directions:
(From I-80, not the Homestead Resort) Getting to the Park City Base Area is easy. Follow UT-224 from I-80 towards Park City. After 6 miles turn right onto Empire Avenue and follow the signs to the base parking facilities.
Parking:
We hit the road early in chase of new snow and arrived at Park City, opting to park down by the First Time Lift. This is still my favorite place to park, as there are ticket booths and restrooms right by the lift, and often we find parking just a short stroll from the runs. In this case, we were three cars from slope-side. 🙂
We took the First Timer lift up and since our family has graduated from the bunny hill, we skied down to the PayDay Lift and moved higher on the mountain.
Toddlers/Newbies:
Park City Mountain has, in my opinion, one of the best areas for teaching young children and never-evers. Not only is it accessible without a long walk, like many large resorts (see parking above), but the magic carpets are a great way to start a new skier without having to commit to the hassle, cost and fear factor of loading and unloading on a lift.
When the family is hungry or cold, the main base area and restaurants at the base of the PayDay lift are easily accessible.
Kid-Friendly Terrain
Truly, we saw every kind of snow and weather that day! Snow, Sun, Fog, Sun Dogs! It was gorgeous and the amount of terrain open for early season was impressive (and after the 4-5 feet of snow recently fallen, I am sure it is primed for Christmas Break).
Our multi-generational crew (grand kids, parents, grandparents) varied in ability, but we found that the majority of the terrain was perfect for everyone!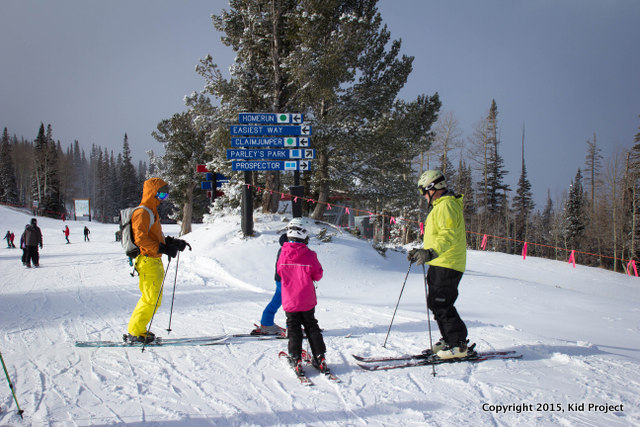 Park City boasts 41 lifts and 300+ runs, the vast majority of which are intermediate runs. This is perfect for my family, allowing safe yet challenging terrain for everyone in the group. Often I find we are limited to a small segment of a given ski area due to our young skiers. But at Park City Mountain, we are able to explore all over the mountain without moving to far out of our comfort zone.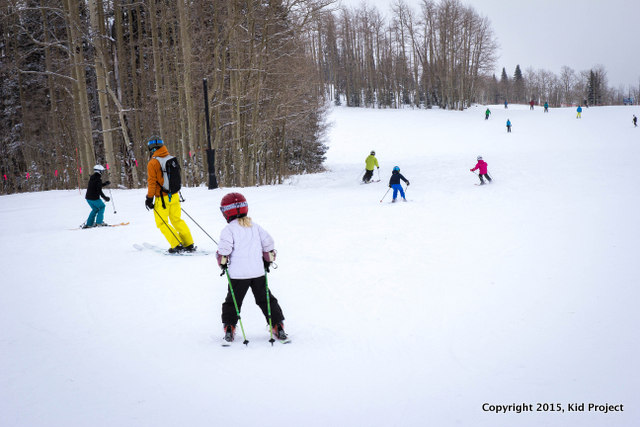 Dining at the New Miners Camp
New at One Park City for 2015: "The new Quicksilver Gondola that connects Park City and Canyons creating America's largest ski resort opened on Dec. 17th.  The brand new Miners Camp restaurant is open as of Dec. 4th. Renovations of Summit House and Red Pine restaurants are open as of our opening weekend. Increased snow making on Iron Mountain and trail widening on Chicane opened during the week of Dec. 14. And of course the upgraded Motherlode detachable high-speed 4-pack and the upgraded high-speed King-Con 6-pack are scheduled to open during the week of Dec. 21." – via Park City Mountain
Rather than ski to the bottom, when we were having so much fun up top, we opted to have lunch and a warm up cup of coffee at the new Miner's Camp restaurant, located adjacent to the Quicksilver Gondola (not yet open on this trip).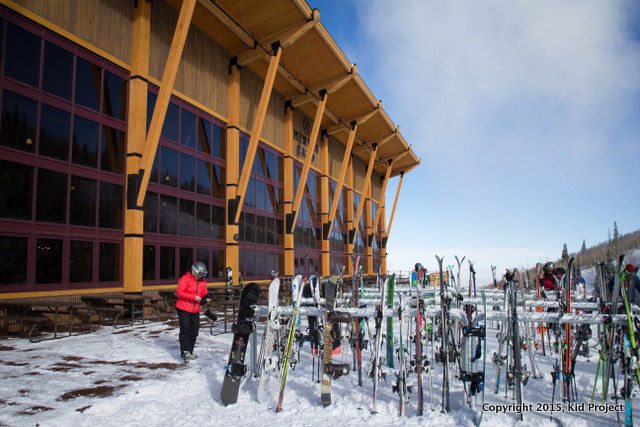 Large three-story windows fill this modern lodge area with views of the ski hill and lots of sun. We warmed up with some coffee, hot chocolate, and treats. The interior of the new lodge is similarly styled, though less fancy, than the Needles Lodge at Snowbasin Resort or Sunspot Lodge at Winter Park.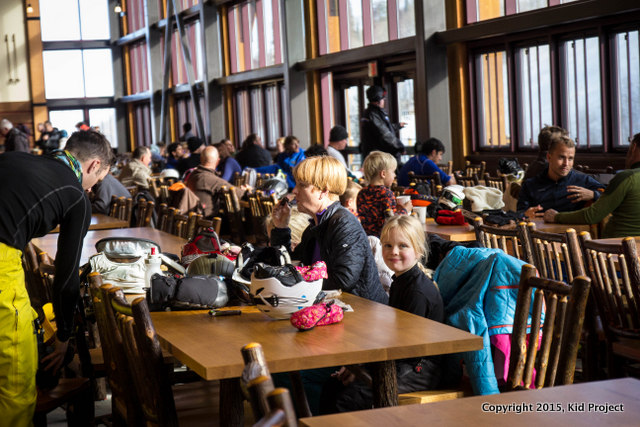 After a relaxed lunch, we hit the slopes again. And honestly, I was pleased to see that the incoming Vail Corporation and the new Park City One, did not have any negative effect on our experience. It was still the Park City we've grown to love over the last 5 years.
And while we were a bit bummed to miss the opening of the Quicksilver gondola connecting Park City to the Canyons, we also found that focusing an entire day on one side of the mountain still gave us more than adequate terrain.
In fact, I'd suggest, if you are coming into town for multiple ski days, take separate days to explore each side of Park City One, instead of trying to cover it all in one day.
Everyone had terrain they liked and we took turns playing follow the leader.
We had a fantastic day celebrating family and skiing at Park City Mountain, a perfect destination to host your family ski getaway!