Spring and fall are the perfect time for hiking and exploring in southern Utah. If you missed our guide for camping, click here for our favorite places to camp in Southern Utah.
We have spent many weekends, hiked hundreds of hours, and explored many of southern Utah's treasures. These are our favorite family hikes. Please remember to assess your own ability and make safe decisions with your children. Many of southern Utah's hikes are near steep drop-offs.
This is in no way a complete list, so please share your favorite places in the comments section.
Click the photos or the titles for more information on a specific hike.
Best Family Hikes in Southern Utah
Who wouldn't want to put on their head lamp and scramble down into ancient lava tubes?! Snow Canyon has a plethora of shorter hikes but the lava tubes were the highlight for us. This is also a perfect place to explore on a rainy day as you are under ground for much of it!
Dead Horse Point State Park, is a less visited treasure sandwiched between Canyonland NP and the Arches NP/Moab area. The campground is amazing, offering easy access to trails for hiking and mountain biking that are perfect for families.
Kanarrra Creek Canyon is located in Kanarraville, roughly 30-40 minutes north of Zion National Park. It is an amazing place to explore with your family. An easy 1 mile hike leads you to where the canyon begins to narrow. A series of "log ladders" help you continue deeper into the canyon and over waterfalls.
Definitely proceed only if everyone in your group is comfortable with these obstacles. We'd suggest this hike during the warmer months, as the water is very cold on the feet. Water shoes/neoprene water socks would be helpful.
The hike to Cassidy Arch is easy, roughly 1 mile to the arch but the trail climbs steeply along the canyon edge, providing amazing views of the desert floor below. The brave hiker can actually walk out onto the top of the arch, can you see us?!
Bring lots of water and hats – there is very little shade on this hike as well!
If you want to experience a true Utah slot canyon, but also one that is super family friendly, then look no further. Little Wild Horse Canyon is often  hiked as an out-and-back, and families turn around when they are tired or reach an impasse.
For those more adventurous, you can connect Little Wild Horse to Bell Canyon making a loop. If you do this, plan for an entire day on the trail, roughly 9-10 miles, (though our GPS freaked out) so we aren't sure on exact mileage.
Dogs are allowed but not suggested. Kai's long legs and skinny body helped him in the narrow passages, but he still required assistance on a few of the scrambling sections.
Island in the Sky is located in the northern part of Canyonlands National Park and Mesa Arch is a don't miss family hike. Best is visited during sunrise or sunset, the hike is only .5 miles to the arch and has stunning views of the Colorado Plateau.
We easily tacked this hike onto a longer hike on the same day.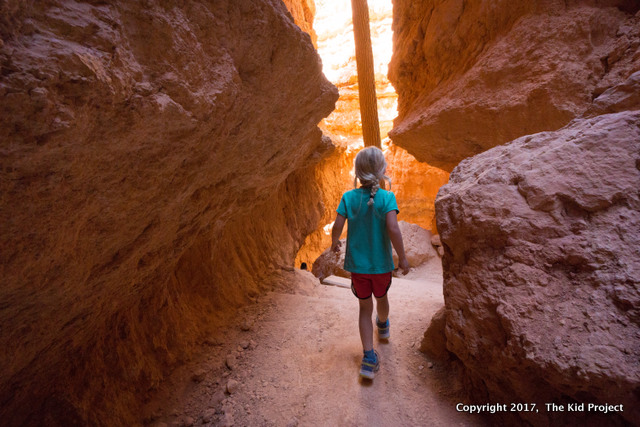 The Navajo Loop is a short but steep 1.3 mile loop in Bryce Canyon National Park. I'd suggest going in a counter clock-wise direction but really either way is fine. Steep switch backs turn into a narrow slot canyon towards the bottom. Then follow the trail through a labyrinth of hoodoos on your way back up to the canyon rim.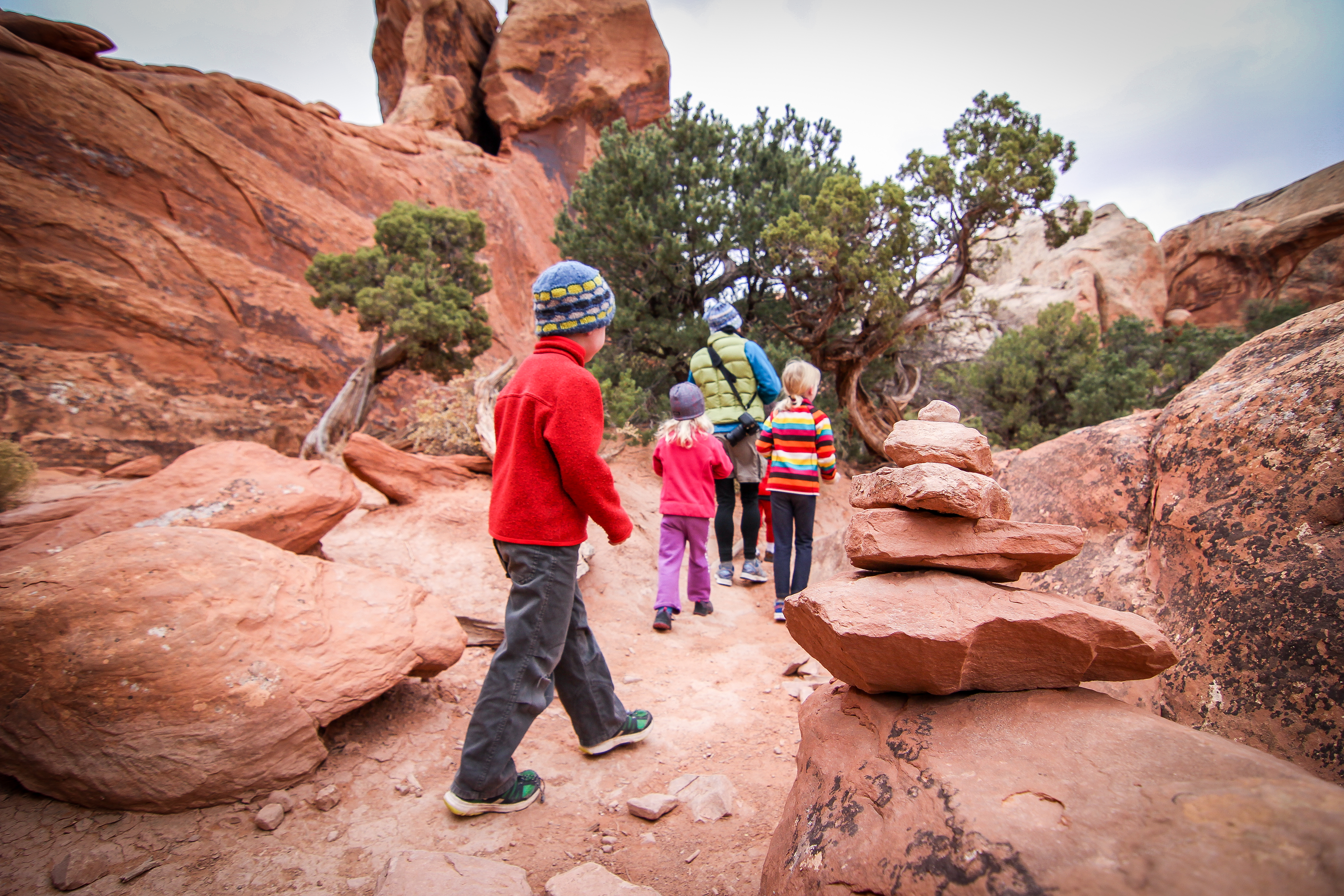 Arches NP is in itself like a super huge playground for families. What I mean is this: almost every hike is short, relatively easy, and packs a ton of punch in the views department. Double O Arch and Black Angel is a longer hike, but we had a blast making a full day of it. Be prepared for a few steep sections and a bit of sand depending on exactly which route you take.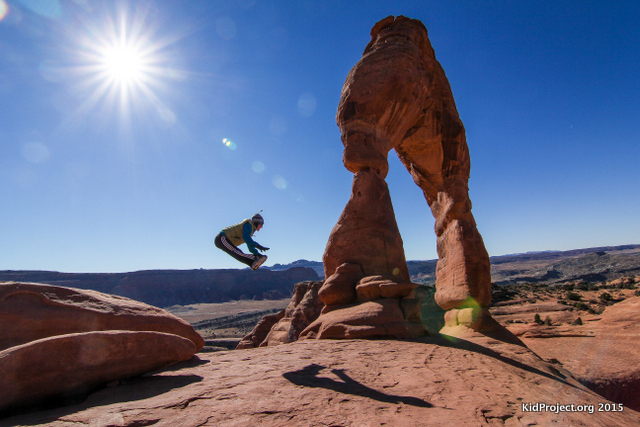 Everyone should hike to Delicate Arch, arguable the most famous arch in Utah, at least once. The only thing that diminishes the view are the crowds, so try to go during the week or at a less busy time of year (early spring or late fall).
The hike to Delicate Arch has a few exposed sections so watch your kids, but over all is an easy 4 mile hike.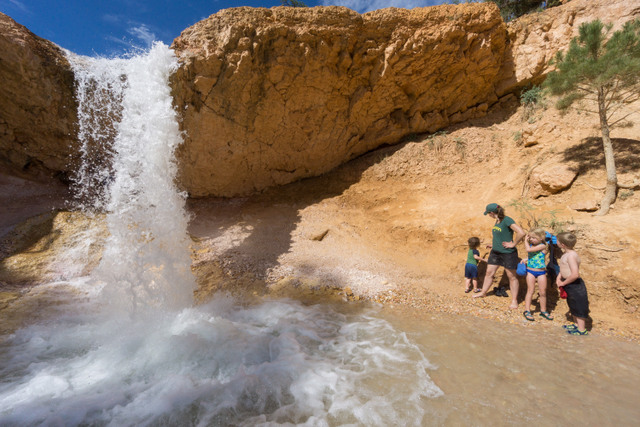 Located roughly 10 minutes outside Bryce Canyon's northern boundary, the Mossy Cave hike was a trip highlight! While the actual caves were underwhelming, the falls are an excellent way to cool off on a hot day! We had a blast on this 1 mile out-and-back outing and spent quite awhile playing in the water.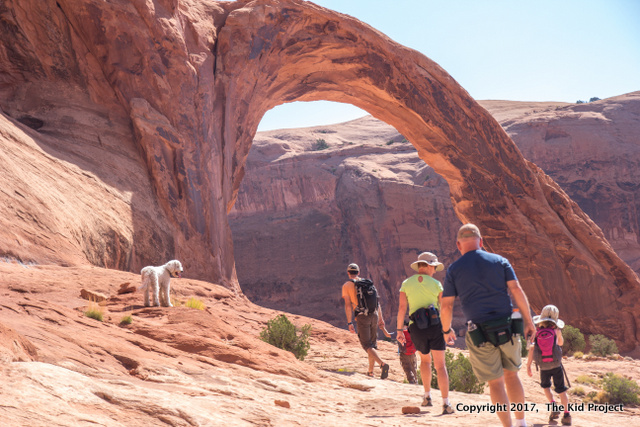 Corona Arch is arguably one of the most impressive arches in Utah. It is also infamous for the daring souls that are known for making the world's larges rope swing off the top. (Not suggested) However, the hike into the arch makes it top our list!
Slickrock scrambling, chains and a ladder make this hike super fun! At roughly 3 miles round trip- it is easy for the kiddos. Remember lots of water, hats and sunscreen as there is very little to no shade on this hike.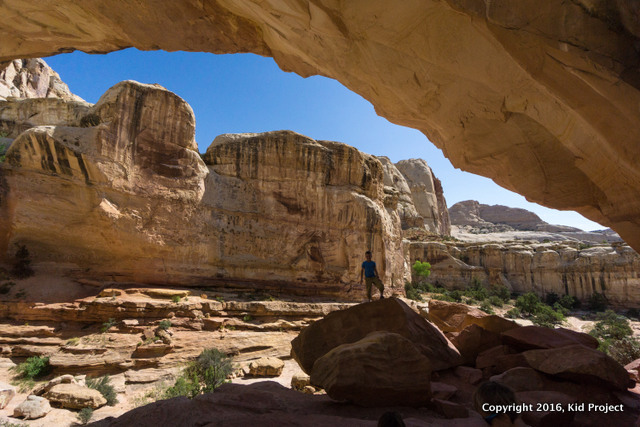 Hickman Bridge is an amazing hike for families. A short hike, just under 2 miles round trip, climbs over sandstone, through a wash, and along canyons to a magnificent natural bridge (similar to an arch). The elevation gain is moderate, we climbed a total of 450 ft throughout the hike.
Goblin Valley, a secluded valley in central Utah, is filled with hundreds of unique sandstone formations known as Hoodoos. These Hoodoos take many forms, most looking like overgrown mushrooms, nobs and spires.
The most unusual aspect of Goblin Valley is the "run anywhere" form of the park… Goblin Valley is a hands on park. A hands, feet, and bodies on sort of place – which also makes it a fantastic place for kids!
If you visit Goblin Valley, make sure to swing by Little Wild Horse, only a few miles away!
We'd love to hear about your favorite hikes. Please share below!